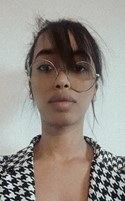 Functions :
Department : Operations
Field of research : Business Analytics and SCM

N1 - Rue Louvrex  14 - 4000 Liège

FatimaEzzahra.Achamrah@uliege.be




General data :

Category: Scientifique

Biography: Fatima Ezzahra Achamrah joined the team QUANTOM (Center of Quantitative Methods and Operations Management) in December 2021 as a researcher with Prof. Sabine Limbourg. She is also a PhD student in Industrial Engineering from the Industrial Engineering department, CentraleSupelec, Paris Saclay University, France. Her research interests are logistics, AI, modelling and simulation of industrial and complex systems. She has published research articles in journals such as International Journal of Production Research, Computers and Operations Research, and Applied Mathematical Modelling.